What is a face roller and why do you need one?
The little crystals wands are the latest skincare trend—but do they work?
---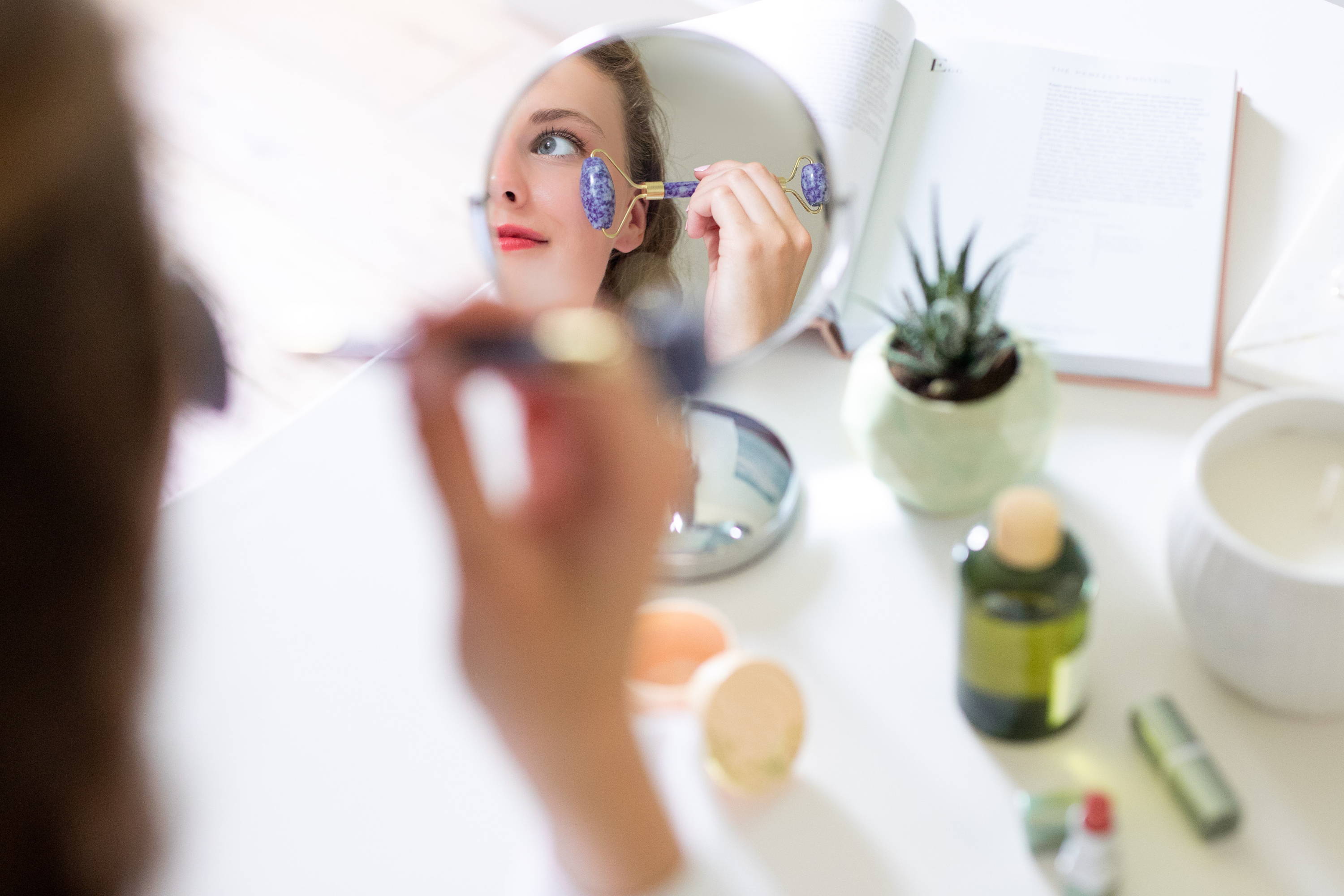 Fueled by green juice and chia seeds, our luxury wellness obsession is proving to have all the endurance of a SoulCycle instructor. The latest in stylish self-care? Crystals, and not just clutching them for positive energy. Jade and rose quartz face rollers are emerging as the Instagram set's go-to tool for achieving glowing complexions, and they check all the trendy boxes: they fit our growing interest in everything natural (what's more un-Botox than just rubbing a stone on your forehead?); they get raves from celebrity facialists; they claim ancient royal roots; they sync with our modern good-vibes-only obsession; and last but not least, they're oh so photogenic (white marble or millennial pink backdrop optional). But do jade and rose quartz face rollers work, and how exactly? Read on for all your beauty FAQs, answered.
Picture a petite paint roller for massaging your face, with a smooth bead of stone as the roller. Some are double-ended, with one small roller (for targeting areas like the under-eyes) and one large roller (for the rest of the face). Jade is the most popular gemstone for face rollers, but you can also find them in rose quartz.
WHERE DID FACE ROLLERS COME FROM?
Face rollers were a beauty go-to among empresses in ancient China.
WHAT ARE THE BENEFITS OF FACE ROLLERS?
According to Angela Caglia, an L.A.-based celebrity aesthetician named one of skincare's rising stars by WWD's Beauty Inc., these rollers offer a ton of immediate benefits: brightening the skin, improving fine lines and wrinkles, de-puffing the under-eyes, boosting circulation, and helping with lymphatic drainage to get rid of swelling and help sculpt a V-line jaw. "I have been using rose quartz rollers in my treatment room for two years," says Caglia, who believes the tool is anti-aging, too. "You are soothing facial muscles, which cause premature wrinkling when they are stressed."
HOW DO I USE A FACE ROLLER?
Stash your roller in the fridge for an extra-chill feel, or keep it at room temperature. Then once a day, roll your face with soft, light pressure—as if you're barely touching it—in an outward direction, says Caglia. She suggests rolling after you've applied facial oil, which also encourages the dewy product to sink into your skin. A little beauty TLC is bound to give a feel-good glow.
Shop Genuine Face Rollers from Cleres.com from $30